StaFra Pet Resort is 'one of a kind' in Anderson, SC.
 A Private Luxury Resort with only 9 indoor SUITES and a terrific Private Dog Park for our guests only!
Catering to dogs with a tranquil setting and activity filled vacation for your pet!
EXPERIENCE THE DIFFERENCE in a TRUE PET RESORT!
Call or text us at StaFra Pet Resort
(864) 296-1160
By appointment only
Arrival and Departure Times:
Monday-Saturday – 8 AM to 9 AM & 4 PM to 6 PM
Sunday -4 PM-5 PM

 For a Tour of StaFra Pet Resort, Call for an appointment.   We'd be happy to set aside time to show you where your 'baby' will stay.
* Recommended by many clients and Veterinarians!
At StaFra Pet Resort, we offer the ultimate in a Luxury dog boarding experience.  Our suites and property of 23 acres are designed with your pet in mind.   We live on site and are passionate about pets!  Our dog boarding, coupled with our many fun activities and professional dog grooming is why StaFra Pet Resort is the only place you will want your pet to stay!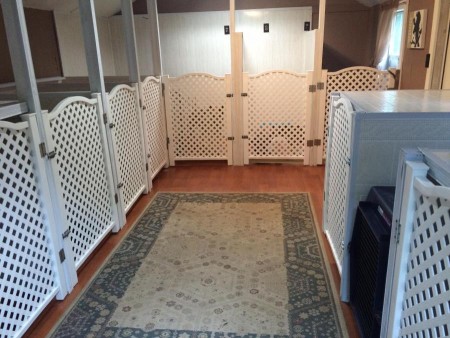 Each Suite has a clear view to the Large Flat Screen TV! Our Guests enjoy whether it's News, Music or a Pet Related Movie, it is all for your furbabies' enjoyment!
Of course, our Resort is Air Conditioned and Heated!
Prices:
Resort prices are $40.00 a Night per single dog per suite and $20.00 extra for each additional dog in the same suite.
Example: 1 Dog, Arriving Monday – Departing Friday = 4 Nights
Please Call if your Arrival or Departure expected time changes.
*We do charge an extra night stay for Arrivals and Departures outside of our regular hours!
Monday-Saturday –Arrivals 8 AM to 9 AM & Departure 4 PM to 6 PM
Sunday -4 PM-5 PM
We are HERE for your pet on  all Major Holidays but are CLOSED just for DROP OFFS AND PICKUPS on that day!  No Exceptions!!!
Example: Accepting Arrivals and Departures on December 24 and 26.  Not on December 25.
We require a
NON REFUNDABLE ONE NIGHTS STAY RESERVATION FEE

at the time of reservation!
A one nights stay of your reservation amount will be collected at the time you make your boarding reservation (credit cards can be taken over the phone)
Reservation fees are required to secure your reservation. Many times we are full and have to turn pet parents away and then people do not show up for their reservation.
Reservation fees cannot be used as credit toward other services.
Payment for the balance of the full boarding stay or grooming will be collected at pickup and any extra fees incurred.
All pricing and policies are subject to change without notice.
We do not accept dogs that are not potty trained to go outdoors or are destructive or have temperament issues!
What to expect at time of arrival:
Plan on spending at least 15 minutes to fill out our Enrollment form and discuss any matters about your pet with us.
During this time, it will be necessary for us to get to know your pet and you.  This also helps your dog relax in the environment
What to bring:
Vet Records- All pet's must have up to date vaccinations and a negative fecal test within our acceptable time frame. Titer tests are accepted as well.
Food, bedding, collars with tags, leash, toys, food, dishes, etc. Anything you would like to bring to make your pet's stay with us more comfortable is welcome.  Your dog's items are NOT SHARED and will go home with your dog!
About Guest Stays at StaFra Pet Resort
StaFra Pet Resort has 9 Suites total. We strive to only have limited number Guests at a time to have a more relaxed atmosphere here. This also allows a lot more time for each Guest to have one on one time to play and quality time. StaFra Pet Resort is air conditioned, heated and plenty of fresh air along with a air purifier.
Their Daily Schedule begins at 6 am.
**ALL Activities depend on our Guests age, limitations/handicaps, personality and activity level.   Reminder–We do NOT offer "Group Play"!   Your dog will go out with us only off leash in our private fenced dog park   If your family is more than one dog and they can play together, then we will allow that family group out together.
**An important fact about our schedule here at StaFra, we let our dog guests outside about every 2-3 hours!   We do not believe dogs should be only let out 3 times a day.  Our guests are on "Vacation" just like you.  We believe that fresh air, plenty of time to explore the outside, whether it's  running and playing, is key to a happy and healthy dog!
We have nap times, snack times, relaxation and private bone chew times, with relaxing music and television in between.
Due to safety of the dogs, we only allow private play /individual time inside and out.  They can run free and play in our private fenced dog park.
Our Night Activities start to dwindle down at 10pm on most nights. Some nights are more active depending on our Guest's personality and weather, etc. This is just a average time when most of our Guests are going to bed on their normal schedule at home. * It is important to our guests to adhere to their normal home time schedules here as well.
We live onsite and someone is always here at StaFra Pet Resort.  You are more than welcome to call and check on your pet or even chat to them via phone! -Yes we will bring the phone to them.
**We have scheduled times for a StaFra Pet Resort Tour as our Guest's stay is to be tranquil, relaxing and secure for them!
We try not to upset them by newcomers and constant traffic with strangers.  We do not allow random public interference without a scheduled a tour!  We want to ensure that no one entering StaFra Pet Resort has been to other pet kennels or pet places, or around any sick pets or diseases within 10 days of entering StaFra Pet Resort. This is for the protection of our Guests!
If you have any other questions, please call or text us at  (864) 296-1160. If we are busy or out with the dogs, please leave a message and we will get back to you!
*We reserve the right to refuse the stay of any pet at anytime, for temperament issues or illness or other issues we see unfit for StaFra Pet Resort & Spa!
**If your pet has been hospitalized recently, please have a signed release from your veterinarian for approval of boarding!   We will not accept pets that have recently been sick.  This is for the protection of your pet and others!